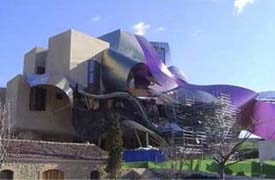 tlc in Minneapolis writes:
For spring break I will probably go to Spain since one of my friends will be there next year on a Fulbright. Some mutual friends who like wine are seriously considering doing the trip with me. So let me ask you for recs on Spanish wine regions that would be nice to visit in March! My colleague will be based in Madrid but I'd have about 7-10 days so could get out and about a bit.

Shazza in London writes:
Any tips for travel in Rioja? I'll be there in October.
* * * *
If I were vactioning in Spain, based in Madrid and interested in seeing Spanish wineries, I might be tempted to go to Ribera del Duero since it is a little closer and a very exciting region. In fact, the whole Duero/Duoro region is fascinating, but I'll post more on that in October.
Visitng the grande dame La Rioja could also be good. At least one thing makes traveling there exciting now: a new museum/winery extravaganza designed by Frank Gehry. I saw a model of it at the MOMA exhibit earlier this year about New Spanish Architecture. But as of September 17 it will be open to visitors. I doubt it will do for tourism in La Rioja what Gehry's Guggenheim did in Bilbao (the world has had a whole lot a Gehry since then) but it will certainly motivate some people to check out this wine region.
Decanter magazine recently described Gehry's having "designed the roof of wave-shaped titanium sheets in homage to the flowing skirts of Flamenco dancers." Um, I sincerely hope that is not the case since flamenco is from Andalucia, all the way on the other side of Spain. Maybe Gehry had already had a little too much tempranillo.
So where to visit? (town name in parentheses)
Marques de Riscal (Elciego): Leading producer in the modern style and with the Gehry museum/hotel/spa, why not schedule a tour and a vinotherapy treatment.
Muga (Haro): the classic "old school" producer was brought, the story goes, a bottle of Napa cab by its importer and told to replicate it. Hence Torre Muga, their high-end wine. Otherwise a traditional producer. Try the Prado Enea as well as one of the whites.
Lopez de Heredia (Haro): Founded in 1887, they still use traditional methods. Very cool. Definitely try a white.
Marques de Murrieta (Logrono): Old oak barrels and stainless steel can be seen here in this atmospheric castle; try the Castillo de Ygay, red and white.
CVNE (Haro): Old company that got a new winery in 1989 with gravity moving the wine from one stage to the next.
Granja de Nuestra Señora de Remelluri (Labastida): A newer producer that is a Parker fave; very pretty location.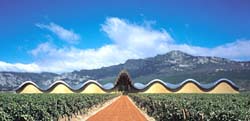 Ysios (Laguardia): If you haven't had your fill of wineries designed by world-class architects, then check out this futuristic wave-like winery, designed by Santiago Calatrava. Now part of Pernod-Ricard.
With all of these wineries, it's best to plan ahead and reserve for a tour if necessary. And surf on over to Catavino and drop Ryan a line and see what he has to say.
What are some of your favorite spots in La Rioja?
Send in your questions.
tags: wine | wine travel | Spain | Rioja