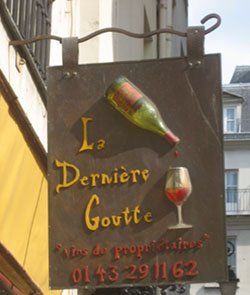 American wine geeks will feel at home at La Derniere Goutte. And it's not because the name—the last drop—evokes an American ad campaign of a bygone era. It's thanks to the fact that the owner speaks perfect English, since he is an American.
Juan Sanchez started his first wine shop in Paris 13 years ago in the charming streets of the Latin Quarter. After three years at one location he moved around the corner and started La Derniere Goutte. He has been sourcing wines from boutique producers ever since.
The small, climate controlled shop has a great selection of wines from independent growers particularly from the Languedoc and the Rhone. Many of the growers practice wine making that uses little intervention in the vineyard and in the winery.
And many of the producers aren't imported to the US so you can keep WAY ahead of the Jonses. Have you ever wanted to try a champagne from Anselme Selosse for example? Juan has several as well as other champagnes made by the growers themselves (not the norm in Champagne where the big houses prevail). It's a good thing he offers a tax refund of 13 percent for purchases over 120 euros.
Beyond simply having great wines, Juan and his staff make it easy for you to actually buy them on a tight travel schedule since they're one of the few Paris (wine) shops open on Sundays. And oh yeah, if you're local, they deliver too. How about that for convenience!
6, rue de Bourbon le Chateau, 75006 Paris
tel : 01 43 29 11 62
* * *
Juan is also a partner in the restaurant Fish, just around the corner on rue de Seine. Located in an old fishmonger's store with ornate tile work on the façade, the food and service on the inside are just as refreshing as the air conditioning. We enjoyed the Domaine Roquefort rose from Provence (find this wine), which is available by the glass, carafe, or bottle. The friendly staff pour natural wines from the list and would no doubt welcome naturalistas seeking glass when the restaurant is not in full swing. You may even see Juan there after the shop closes.
A bit of trivia: directly across the street from Fish is a sandwich shop called Cosi. They bake their own flatbreads in the oven and offer a menu of light fare. Sound like the publicly traded American company by the same name is following Starbucks and making inroads into France? Actually it is the other way around in this case. This location spurred American investors to buy the rights and turn it into a hugely successful business in the states.
Fish, La Boissonnerie, 69, rue de Seine 75006 Paris. Tel : 01 43 54 34 69
tags: wine | wine shops | natural wines | Paris