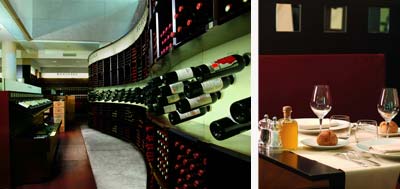 If you are in Paris looking for a wine from the Etats-Unis, New Zealand, or even Brazil, your home to one-stop shopping convenience has a name: Lavinia.
Sprawling over a climate-controlled three floors, the store is the most New World in its orientation in all of Paris. Opened in 2003 after its owners cut their teeth on locations in Barcelona and Madrid, the store stocks 6,000 wines, hundreds of spirits, a significant selection of wine books in French and English, and a handsome tasting bar and restaurant. And with copious amounts of staff, the customer service is as refreshing as the air conditioning.
Consider it a must-stop for wine geeks, whether for ex-pats or locals who are stuck in a rut or visitors who are looking for the best of French wines.
The entry floor has many wines stuck neck first into a display with helpful rings around them indicating a good value, organically grown, best seller, or a seasonal selection. One section suggests wines paired with various foods. They offer a sample of a wine or two a week, poured in a glass (not plastic!).
This floor houses the wines of the world, from Argentina to Spain and Tuscany to Napa. A panel on the wall said "Cuba" and I was intrigued–since my home country has an embargo against products of the island, this was my first chance to try a wine from the island more known for tobacco than grapes. Alas, it was not to be since the wine, once stocked, was no longer available (a testimony to its poor quality a staff member told me).
Upstairs is the library, a huge array of armagnacs and cognacs, and the swanky bar/restaurant. Their attitude toward customer service is such that the whole store becomes the wine list: each wine in the store can be consumed at the bar for the same price as in the store, which makes it the most diverse wine bar in Paris (open til 8 PM).
Downstairs is all French, all the time. There is a cooler storage area for not just e expensive and rare wines but also some affordable "natural" wines that need a little more TLC. This area holds perhaps the most appeal for visitors to Paris looking to pick up some of the bounty of France.
If the sumptuous selection is too much for you to carry home, they deliver! (a concept, essential in Manhattan, which is still in its infancy in Paris) And for non-EU visitors who start swiping the plastic with vigor, the store offers a 13% tax refund on purchases over 300 euros–though it will require getting to the airport early to claim it.
The selection here of wines from the world can't be beat in Paris. If you are sold on the business model, then it can be yours: a sign in the window says "franchisees wanted."
Lavinia, 3-5 Boulevard de la Madeleine, 75001 Paris. 01 42 97 20 20
www.lavinia.fr
tags: wine | wine shops | wine stores | Paris