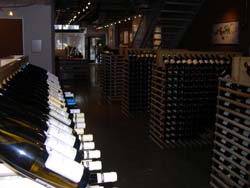 When I walked into Moore Brothers on a warm and sunny afternoon this week, I was instantly happy. That's because the entire store is cooled to 56 degrees (or so they say; it actually felt like 65 to me but it was still a relief).
Is cooling the whole store a gimmick? Maybe. But it works.
"Wine is a perishable agricultural product," writes Greg Moore in the engaging newsletter.
While the Gramercy shop sells only 300 wines from France, Italy, and Germany, I could easily have spent an hour in the shop and my entire monthly wine budget. I followed the polished concrete floors and exposed brick walls to the rear of the spacious store where a staff member was pouring four wines, all under $20, in glasses. Classy.
Because they work with only two distributors, consumers might not immediately recognize many of the wines. But Greg and David Moore know them all because they have visited the regions and worked with the producers for years if not decades.
Can the store deliver quality at a reasonable price? Or does all this Freon make it prohibitively expensive? It's hard to say if they are price competitive because many of the wines are only available in other restaurants if at all in NYC. But Greg Moore suggests in the newsletter that "it's self-evident that a bottle of Gianni Piccoli's Biano di Custoza is much more intrinsically worthwhile than a bottle of Santa Margharita Pinot Grigio, which is much more expensive." Unknown is distinctive and in this case good. Often very good.
In case you can't keep up with their 300 wines, each customer has an optional file of purchases on their computer. Loved something and can't remember the name? Call them and they'll tell you. Or you can access your account online and track and rate your own purchases. But my bet is they'll actually remember you in the store.
I'm thrilled that Moore Brothers has finally opened in Manhattan since one of my friends who shops at their Delaware store has been telling me about it for years. This specialty store has leapt to my short list of favorites in New York City and I look forward to going back often. Perhaps the best thing about my experience there happened when I got home and pulled the cork of the wine I bought. It was still chilled. How refreshing.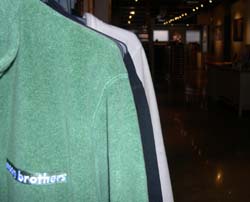 Where: 33 E. 20th St (see it on the NYC wine store map) Grab a fleece at the door!
When: M-Sa 10 – 8; Sun 12 – 6.
How: 4, 5 to Union Square, 6 to 23rd St.
Call: 866-986-6673
Who: the whole family–there is a playspace for kids
Shelf-talkers: none. Each wine at the tasting table had staff-written one page (!) of tasting notes, producer story, regional history.
Delivery: free delivery in Manhattan for orders over $150; otherwise $12.75 delivery charge. Shipments to New York state and beyond will be available soon.
On the web: site
tags: wine | wine stores | New York City