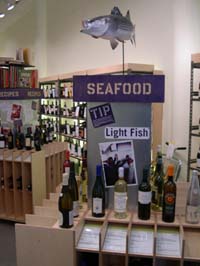 "Bottlerocket believes that buying wine should be as pleasurable as drinking it," reads the store fact sheet. Who can argue with that! A selection of 365 wines arranged alphabetically by region runs along one wall, the same wines (and a few sakes) are then paired with foods selections on 18 handsome, rolling displays in the rest of the spacious store. The greenmarket display currently grapples with asparagus and suggests some sauvignon blancs and roses. Other displays pair wine with chicken, beef, and select good gift wines. Dial in your take-out thanks to the restaurant menus on the displays–or try to beat the delivery guy home.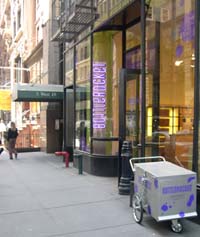 The whole philosophy is the next step in drinker friendliness beyond arranging wines by style (a la Best Cellars). As well as food pairings, the shelf talkers offer critics' scores, if available, and a "Bottlerocket index" out of 5 (mostly 3s and 4s) if not…While many wines are available under $20, the pricing is not the most competitive in town…Bring the kids since there is a playspace next to the spacious reading area at the back of the store.
Delivery: by cart within a radius of a few blocks; otherwise by taxi (you pay the cab fare!)
when: 11 – 8 PM daily, Sunday 12-6 PM
who: Bottlerocket Wine and Spirit
call: 212-929-2323
where: 5 W. 19th St, (just of 5th Ave), Flatiron district
See it on the nyc wine shop map!
tags: wine | wine | New York City