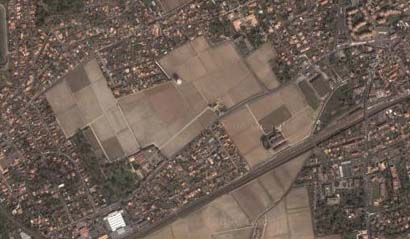 In case you thought that fighting urban sprawl was something limited to California, Chateau Haut Brion has been fighting it for decades too. In fact it is entirely surrounded by the city of Bordeaux.
Thanks to the satellite imagery of Google, we can now have a look for ourselves. In the image above, Ch. Haut Brion is the largest vineyard, separated by the N250 (Avenue Jean Jaures) from La Mission Haut Brion. Below the train tracks is the top of Ch. Latour Haut Brion.
These may be the closest vineyards to the city center although others have also been engulfed including Ch. Pape Clement and Ch. Picque-Caillou. Click here to check out the terroir for yourself. Take a look at the Google map of the area and zoom in and out and see satellite or hybrid views.
Thanks to GoogleMapsMania blog for the tip about Google's Western European maps going live!
tags: wine | Bordeaux | Haut Brion | Google maps