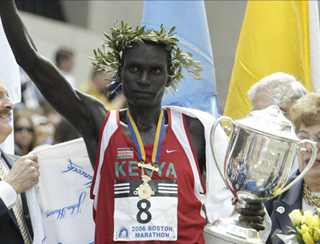 Robola
Moschofilero
Malagousia
Assyrtiko
Xinomavro
Agiorgitiko
Xinomavro
Krassato
Stavroto
Vertzami
I absolutely HAD to go a Greek wine tasting yesterday since I knew with 300 indigenous grape varieties that it would push me over the edge of the Wine Century. Indeed it did as I crossed off all those grape varieties above.
My 100th grape variety was thus the Moschofilero, an aromatic gray (!) grape grown all over Greece. The Tselopos 2005 (find this wine), which I had, was surprisingly aromatic, had crisp acidity but didn't really do much for me. Maybe it needed some feta to go with it. Or saganaki.
But Greek wines have come a long way. One wine that stood out for me in the tasting was the Alpha Xinomavro 2004. Although there was more oak than I would usually like, it was an heirloom grape in a modern style, concentrated, extracted and with a good finish. On the whole, the whites and reds had good acidity and I was just sorry there weren't at least any olives available.
So I'll be sending in my form for the Wine Century Club today. Net-net I think the idea is a very good one. It knocks wine drinkers out of their groove and forces them to try something different. Certainly as it stands, where tasting notes aren't required and grapes used in blends are allowed, the bar has been set too low for the most hard core of wine geeks. Perhaps Steve and Deborah De Long will add a more advanced Wine Century by country to take advantage of the revival in indigenous grapes in much of the Old World. Or a Wine "CCentury" for the next one hundred grapes.
But even as it stands, it's lots of fun. If I were going to have a glass of wine with someone, it would probably be more fun with a member of the Wine Century Club than one who had tried one hundred 100-point wines. I urge you to give it a shot!
Download the application (in pdf)
tags: wine | wine century | grape varieties