As I headed to Mendoza, I was haunted by a couple of sentences Eric Asimov recently wrote from a Wines of the Times tasting panel on Malbec:
"…words came readily enough to sum up the tasting — two-dimensional, narrow-gauge, simple. Nothing wrong with those words, but not very many thrills among them."
Chilling stuff for the traveler to Malbec Country! I didn't really understand what "two-dimensional" meant but it certainly sounded like damning with faint praise. When I was on the ground, I put the question to Manuel Louzada, winemaker at Domaine Chandon. His reply came with a sketch on his tasting mat, which I attempted to recreate here: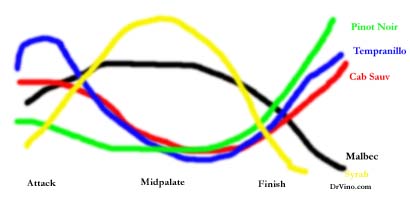 Essentially he said he could understand such a criticism because Malbec has a good attack and very good midpalate while it trails off at the finish. (If you think an attack is a military or a soccer term you'd be right; in wine tasting it also means how the wine tastes when it first enters your mouth—besides wet).
The other various arcs show the profile of other grapes. Tempranillo (blue, above) has a good attack, weaker midpalate, and a strong finish. Cabernet (red) has a similar arc he suggested but not quite as much on the attack. Syrah (yellow) has a broad midpalate but is kind of weak on the attack and the finish. Pinot Noir (green) has a finish that goes on and on—when done right.
This explains why some of the most expensive wines from the region are blends. The $70 Cheval des Andes 2003 (find this wine), perhaps my favorite of the big boy "grand cru" wines I tasted in Mendoza, is a blend of Malbec and Cab to give it a full style. Paul Hobbs added 5 percent Cab to his $100 Magadalena Toso (find this wine). And the $85 Nicolas Catena Zapata 2002 (find this wine) is a 72-28 blend of Cab and Malbec. This makes sense since Malbec has traditionally been a blender in Bordeaux and the Loire. Looking at the graphic above, a blend of the red and the black lines hits all the highs.
"The force of the Cabernet is softened by the Malbec," José Galante winemaker at Catena said. "We make the best wine that we can in the Nicolás Catena Zapata."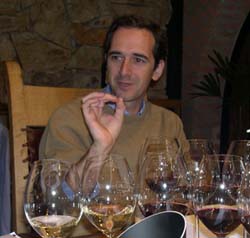 The various vineyard sites also have different tasting arcs for the same variety Galante said (see my notes on tasting Menodoza's terroir). He works to blend those and give the single varietal wines more heft and character.
But what about Malbec on its own? "Malbec is sexy, it seduces," said Manuel Louzada of Chandon. Indeed, this traditional backup singer is ready for a starring role. The prolonged growing season for the grapes in this high desert, which can have 50 percent more growing days than cool Bordeaux, makes the tannins in the Malbecs from Mendoza sweet and approachable. For white wine fans who object to the dryness or mouth-chomping tannins in Cabernet, reach for a Malbec from Argentina and you will not only have a wine that is easy on the palate but also easy on the wallet. If Malbec wines are two-dimensional, then the world is flat.