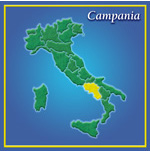 While the ABC ("anything but Chardonnay") theme is well known by now, for Wine Bloggging Wednesday's current edition, Wine for newbies tacks on an exclusion on Sauvignon Blanc and Riesling as well. Hence ABCSBR WBW20–how's that for alphabet soup?! And oh yeah, the assignment calls for the white wine has to be 100 percent of the variety so no blends are allowed.
While I am tempted to write up the best Torrontes I had while in Argentina last week, I will save that write-up for Friday's value vino since it is under $10.
Falanghina is a great "indigenous" grape that grows on the flanks of Mt. Vesuvius outside of Naples. I like its refreshing crispness and fruit–it is the new Sauvignon Blanc for wine geeks. Greg, imports this 2004 Falanghina from DeFalco, says that it "rocks" when paired with fish (find this wine, about $14). I concur. Although Mrs. Vino liked this DeFalco, she preferred the Falanghina from another producer, Feudi (find this wine), which sees some oak. Gabriele DeFalco used to be the winemaker at Feudi but Greg said he left to pursue his own style of wine making that is more authentic and less international. Whichever style you choose, find a Falanghina near you!
tags: wine | wbw | Falanghina