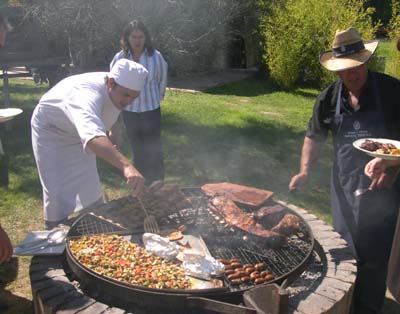 In this country of vast distances, it should be no surprise that the grills are big too. And if there's one thing they like besides wine in Mendoza, it's grilling. One local told me that while residents in other regions may have tango or polo to keep them busy in their leisure time, the quintessential weekend activity in Mendoza is hanging out with friends or family, and having a big BBQ, or parilla.
At this grill above, I asked for "a little bit." A hulking piece of meat landed on my plate practically knocking it over like the slab that tipped over the Flintstones' car. "We don't understand a little bit," said the man in the hat with a grin.
Prodigious in quantity, the grilled meats are also excellent in quality. The beef is superb but travelers to the region shouldn't miss out on the tasty grilled pork, chicken, potatoes, and even a few veggies either. (Mmm, this is making me want lunch thinking about this again) While in Cafayate, I even sampled a llama filet that tasted surprisingly like lean beef–perhaps it is the next ostrich? Whatever you have from the grill, it tastes that much better when washed down with a glass of local Malbec.
tags: wine | food and drink | Argentina | Mendoza | grilling