The new Astor Wine and Spirits glistens. It shines. It's brand spanking new.
I dropped by last week to see the new store since the owners recently left their old location of 40 years. This new store is 50 percent larger and 150 percent more atmospheric. It has a "cool room" where a humming cooling unit chills the sakes, age-worthy and fragile wines to 55 degrees.
There's also a curving tasting bar for handing out periodic free tastings. When I was there on Thursday afternoon, it was besieged with those wishing to try the Greek wines being poured in glasses (will the plastic of the previous location stay permanently banned?).
A huge plasma TV hangs over the bar. Since watching a video of grapes fermenting is about as exciting as watching one of me typing this post, I wonder what sort of programming they will run when it is eventually turned on (please, dear Bacchus, no sports!). To counterbalance the TV, on the other end of the store, a wall of built-in bookshelves houses a huge inventory of wine books for sale and perusal.
Some shelves remain bare but the wines are coming in. I just hope the prices will not be going up.
399 Lafayette at 4th Street, New York, NY 10003
Open 9AM – 9PM (Sunday noon – 5PM)
Subway: Line 6, Astor Place
212-674-7500
Astor remains one of my favorite wine stores in New York City. Map it on my map of New York City wine shops!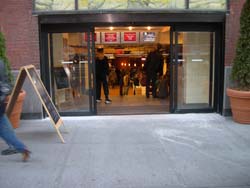 Swanky new entrance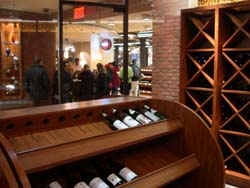 The cool room still needs some filling up…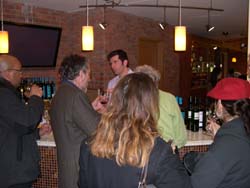 …but the tasting bar doesn't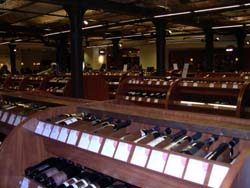 Handsome arched ceilings (barely visible in this poorly lit snapshot)
tags: wine | Astor wines | wine