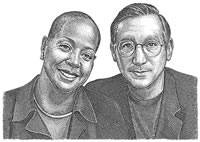 Have you been schlepping a special bottle of wine around with you for your past three moves? Or waiting for that Bordeaux that your aunt gave you for your birth year to achieve its peak? It's time to open that bottle on Open That Bottle Night 7 on February 25.
Dorothy Gaiter and John Brecher, who write the wine column for the Wall Street Journal, started this event six years ago. They urge readers to open a symbolically significant bottle on the last Saturday in February and then send in their stories, with a selection then written up in a subsequent column (kind of like the monthly wine blogging Wednesday). Some stories from previous years have included a couple who enjoyed a 1986 Lafite with their favorite pizza ("The pizza was great," the husband wrote them. "The Chateau Latour was good, not great. But it got better toward the end of our meal, and much better as we entered the Jacuzzi with Mr. Barry White in the background."), a research station in Antarctica, surprise visitors, and many fond memories of good times or good people when the special bottle came into their hands.
I'll be pulling a cork on February 25 and I hope you do too. Make it a party or make it a romantic evening, a gourmet meal at home or a BYOB. But on Sunday the 26th, there has to be (at least) one bottle fewer in your inventory.
There are doubtless hundreds of heartwarming, intriguing, and funny stories that can't be included in their column because of space limitations. Fortunately, here on the internet, we have no limitations (but neither do we have quite the, um, reach). Feel free to post your comments either here or on the post I write after Feb 25. And be sure to drop John and Dottie a line with your story too: wine@wsj.com
UPDATE 2/26/06: I posted our notes of the evening here. Feel free to post yours too!
UPDATE 2/10/08: People have been landing here looking for OTBN 9 (vintage 2008) so I'll add that it is this Saturday, February 23. Have fun!