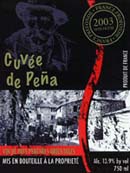 Would you pay $89 for a 3L box of wine? Customers are doing it with style in Chicago–even if that kind of a markup is more like Manhattan!
Avec, the chic and sleek Mediterranean restaurant on West Randolph (so chic they don't even take reservations), is pouring the wine from a bag-in-a-box. It's $10 for a quarter-liter carafe, $31 for the bottle sized 750ml, and $89 for the 3L box (see the wine list). The Chicago Sun-Times reports:
Eduard Seitan, Avec's co-owner and wine buyer, likes the wine so much he keeps three boxes on display at the bar.

"I'm very proud of it," he said.
This actually is a great idea, particularly because the wine in question is the yummy Cuvee de Pena 2003, which I have previously recommended as excellent value vino. A $10 carafe of good wine is an idea whose time has come in America. Maybe more restaurants will start to drink inside the box?
tags: wine | food & drink | boxed wine | Chicago dining