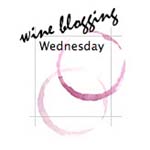 Attention! One week from today is the international transnational multinational event known as Wine Blogging Wednesday! Bloggers of food, wine and otherwise from around the world post an entry around a common theme. As the host this month, I have chosen the theme of wine shops that feel the love. So visit a fun wine shop near you, write up the shop in a paragraph or two or three and drop me a line about your post next Wednesday. I'll do a roundup after the event to provide a handy link back to all posts.
Bonus: while this month's theme may appeal to wine fans who have never written a wine tasting note (or those who find them a bunch of mumbo jumbo) some die-hard WBW participants may feel incomplete without posting a TN. In that case, sample a good value wine based on the recommendation of the staff and write it up! Cheers,
Tyler
PS this is the frist WBW where we can actually write about PEOPLE!
PPS if you need a further backgrounder on WBW, click here
PPSS why does spell check on Blogger not recognize the words blog, blogger, or blogging?!?!
tags: wine | wine blogging wednesday | WBW |