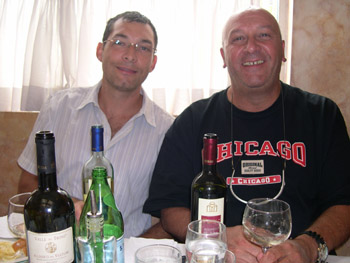 When I arrived at Convito Italiano on Chicago's North Shore last week for a late lunch, the sun was pouring in on Greg Smolik and Walter Fabbri, winemaker at Basilium. Given Greg's preference for "authentic" wines that reflect their growing environment, it's no surprise that Walter, who was only on his second trip to the US, is stocky and jocular and speaks only fragmented English. He's no Michel Rolland being chauffeured in a black Mercedes while consulting by cell phone to over 100 wineries around the globe. He is instead a product of his terroir as much as his wines.
Walter had flown in for Italian Night at Sam's Wine and Spirits and Greg had been running him ragged ever since he touched down. The Italian Night was packed on Tuesday night, they had appointments around Chicago on Wednesday, Thursday they went to Madison, WI to visit some accounts, returning back to Chicago late on Thursday night. It's small wonder we had a late lunch on Friday.
Greg and I had scheduled this lunch, our first face-to-face meeting, so that I could meet Walter as well as Lynda Jo Shlaes, wine director at Convito. Although it was a business meeting, the tone was clearly convivial as Greg declared Lynda Jo "like a sister" before she sat down to independently say that he's "like a brother."
Lynda Jo described Greg as having star-like qualities. "He's the only importer or distributor who comes here to pour his wines and there's a crowd." She regularly has free wine tastings late on Friday afternoons and says that crowds mysteriously know when it's Greg's day and start appearing. I wondered if they had Greg-dar, similar to radar. "I ended up putting a small sign in the window but before that I'm not sure how they knew," she confesses. "Maybe it was the meat."
Greg, who loves pairing food with wine, admitted to bringing grilled meats for customers to try—after first tasting the wine alone. "I love it when people are amazed by what food pairing can do," he admits.
"Greg can easily sell 10 cases of wine in one afternoon." Lynda Jo said. Convito is not only a contemporary Italian restaurant that has been around for 25 years but also a shop selling Italian wines and gourmet foods to go.
For our lunch, Greg had brought two samples from Walter's winery. Both the wines, called Pipoli 2003 and the I Portali 2003, are made entirely from the Aglianico grape. Aglianico has only recently come into its own starring role (admittedly off-Broadway for the moment) but once was used to illegally bulk up the wines of Brunello, Chianti and even the Rhone, Greg said. These wines come from the Basilicata in the arch of the boot that is Italy's silhouette on the map.
Greg also wanted us to try the Pipoli Chiaro, a white wine from the red Aglianico grape, with the lunch. So Lynda Jo brought out a bottle from her stock and chilled it in an ice bucket filled with water, ice and salt (a trade secret). The Pipoli Chiaro 2004 (about $8 retail, Find this wine) looks clear in the glass but has the heft of a red wine. I had just seen the wine director of another store the previous day and she said that she was featuring the Pipoli Chiaro in her fall newsletter as an excellent white. I agreed. It's a white wine that has a red wine personality, perfect for the transitional weather. Greg, always thinking about food pairings, suggested meat (pork), fish (bacala), and pasta with red sauce.
As our food arrived, panini for Greg and me, a salad for Lynda Jo, and grilled chicken for Walter, we moved on to the reds, starting with the Pipoli Rosso (about $9 retail, Find this wine). The most humble of Walter's wines, it is still hand-harvested from 30 year old vines and is an excellent value at about $10 retail. It is medium bodied and is ready to drink. Greg recommends pork, lamb or pasta for the conventional or lentils or local hot peppers for a taste of rusticity.
We then moved on to the I Portali, which exhibited more heft and for about $12 retail (Find this wine), seemed the better value red to me. The volcanic soil of the Vulture growing region in Basilicata give this wine some mineral notes but the dark fruits and soft tannins give it a lot of depth and complexity. It's aged for 10 months in large oak barrels and 4 months in small barrels.
Walter's top wine, the Valle del Trono (about $20 retail, Find this wine), was not available for our lunch, but I've tasted it before and think that it tastes like a wine worth twice the price. Walter's 2001 vintage made only 30,000 bottles of the wine, which used best grapes from the oldest vineyards. Harvested late on November 20, the grapes received 20 days of drying in the sun (akin to an Amarone), 60 days of fermentation, and 30 months of oak aging. This wine accounts for about a quarter of Basilium's wines.
These wines are the ones that give Walter the most pleasure but Walter uses the rest of his large vineyards to pay the bills through the production mass market wines. He grows Pinot Grigio and Greco de Tufo to sell anonymously to large buyers in the UK.
Greg has great confidence in Walter's winemaking capabilities. And after tasting through three of his wines, it's easy to understand why.
We left Convito to head in our respective directions, which for Greg and Walter meant heading down the road to Evanston for their next appointment and then for Walter that evening, to O'Hare, and then home.