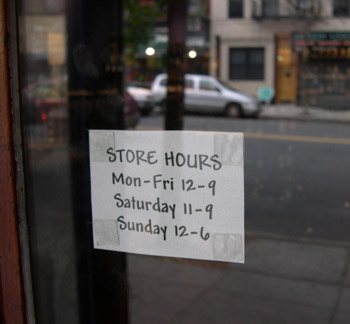 Breaking news: on August 9th Patricia Savoie sold Big Nose, Full Body to Aaron Hans. Pat has decided to pursue wine writing full time. We will catch up with her later to hear from her directly. Meanwhile, I went to Park Slope to meet Aaron, new proprietor of the shop…
Aaron Hans is so bursting with ideas and energy that is small wonder that his close-cropped blond hair stands straight up. But this thirty-something new owner of Big Nose Full Body has plans to tweak the shop, not give it a wholesale makeover. The clever name, the exciting range of wines, the handsome interior space, and the free tastings on Saturdays will all stay the same. But there will be minor changes including staying open seven days a week and even adding some apparel items.
Perhaps the biggest change for Aaron personally is his commute. As a sales representative for Frederick Wildman's wine distribution he had taken as many as 10 subway trains a day to visit his accounts, both restaurants and shops. BNFB was one of his accounts and when he learned that Pat was thinking about selling he made her an offer. The five block commute for this long-time resident of Park Slope was undoubtedly a factor in his thinking.
"I've always wanted to own something," he told me yesterday in the shop. An early stint in restaurants followed by a stint at a wine bar confirmed to him that he didn't want to include food in his business. The shop seemed a good fit from that perspective too.
"You're not going to get rich but you get to do something you really, really enjoy. I'm not stuck in a cubicle all day," he said.
The store stocks wines from Wildman and Aaron is familiar with those. He hasn't tasted through all the wines in the shop yet but any new wines that he adds, he will taste. He added a wine from Ridge to the store already, one that he knows and likes. The store currently gets wine from 22 distributors and he doesn't plan on adding any more. "That's a lot already," he says.
I wondered, how do you value a wine shop? Aaron explained that when he purchased the shop from Pat in early August, he paid one price for the business, one price for the inventory, and the rest was thrown in as "good will." That included odds and ends in the shop such as the racking and the computer-and even the staff. Larry, the assistant manager who was within earshot, joked that that was a lot of good will. "The staff are all great and we have no plans for changes," said Aaron smiling.
With the busy season kicking in, he will however be buying a new computer to speed up the bookkeeping the current sluggish computer and to help with checkout. Last Saturday evening, there was a line the entire length of the shop.
In order to cope with this busy last few months of the year, Aaron has added opening hours on Sunday. Originally it was 12-6 but he said the last two hours were very busy and he felt badly turning people away. So now the Sunday hours are 12-9. Aaron says that he could easily work 80 hours a week but has limited himself to five days a week in the shop. He has to spend some time with his wife and kids after all.
Kids are clearly on Aaron's brain. He interrupts our talk at one point to help a woman with a stroller into the shop. Given the demographics of the neighborhood, Aaron will be working with a designer to introduce Big Nose Full Body t-shirts—and baby apparel such as onesies and toddler tees.
"Who knows maybe you'll come back next year and we'll be making all our money in t-shirts?" he said. It's an exciting time for him with lots of opportunities. And yes, he has agreed to continue to participate in The Real Wine World. That's good for us!