With Susana on vacation this month, I thought we could hear from her American importer, Vine Connections. Partner Ed Lehrman spoke to me from his office in Sausalito last week.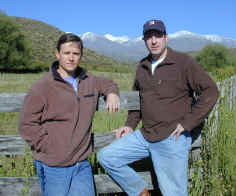 When Ed Lehrman goes to Mendoza, he stays in a hotel for half the normal tourist price. How? He lets one of his local producers make the hotel bookings for him. That's one of the tricks of the trade Ed has learned over the past five years as he has established his company as one of the strongest importers of Argentine wines to the US.
In 1999, Ed went on a fateful journey to Argentina. He had just sold his wine retail business and decided to join one of his distributors, Nick Ramkowsky, on a trip to South America. Although they only spent five days in Argentina and neither spoke much Spanish, they were so impressed by what they saw and tasted that they decided to go into business together and start importing the wines of Argentina to the US.
Ed tasted 3,000 wines a year in his retail business, a company for mail order wine, and Nick tasted a lot too. But when they were sampling in Mendoza, "He looked at me and I looked at him, and we agreed that this is far different from wines we know as Argentine—we have to do something about this," Ed recalled on the phone last week from his office in Sausalito, CA.
"Susana's wines were the ones that made the biggest mark. Here was a very talented wine maker whose wines weren't being exported."
"Argentina in late 1990s was similar to Napa in late 1970s since people were just developing a sense of their own brands and what they had to achieve. They still are today. Really only since 1994 have they been making quality wines for export," Ed said.
It was a hard time to make quality wine at all. There wasn't much domestic demand for it despite the fact that Argentina has one of the highest per capita consumption rates in the world. "The Argentine consumer doesn't have tradition of paying up. Susana stuck to high quality. Thus the benefit for her was to go to the export market and show what she can do," Ed said.
With their knowledge of the US market and its quirks, as well as packaging and sales, Ed and Nick set up Vine Connections and started importing the wines of Argentina. Armed with color printouts of their labels, and samples of their 12 wines, they started knocking on doors to set up a distributor network from scratch. They met with tremendous enthusiasm and acceptance even though the wines were priced aggressively for a relatively unknown country starting at $22 for the BenMarco Malbec and going up to $50 retail. "Price points weren't as tough as they are today," Ed said.
Today VineConnections has a presence in 45 states. His portfolio of wines now is almost entirely dedicated to the wines of Argentina since Ed says that as an importer "it is increasingly difficult to be a generalist." The Vine Connections portfolio also includes the wines of Ernesto and Laura Catena, Tikal and Luca respectively, both the children of Argentine wine pioneer, Nicolas Catena. And they are also importers of several dozen premium sakes from Japan.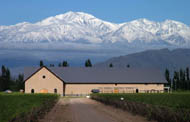 Ed describes Dominio del Plata, the winery that Susana built with her husband Pedro, as more comfortable and homey than other, more luxurious wineries. They built it right among their vineyards and also included a residential space in the winery so from their dining room windows, you can see the fermentation tanks. And it's location on the way to the pass through the Andes to Chile, makes it very convenient. It's small wonder that one thing on Susana's plate for the next year is thinking how to better handle tourism requests.
Single vineyard wines are more risky in Argentina than they are in other parts of the wine world because of the risk of a snap hail storm, which can decimate a crop in 15 minutes. He cited staggering figures of a 13% annual loss rate of the total Mendoza grape crop over the last 20 years. Thus producers tend to source their grapes from several growing sites to diversify the risk. And they also resort to hail netting and even cannons, whose blasts are thought to break up hail squalls.
Despite this hail risk, which is manageable, Ed does not envy his fellow wine importers who import wines from France and Italy. "From a business standpoint, I'm not sure I would want to face the vagaries of the weather. The climate in Mendoza is similar to California. There certainly is vintage variation. Overall if you look at the consistency and quality you can achieve, it is great. We thought about the downside and there was very little."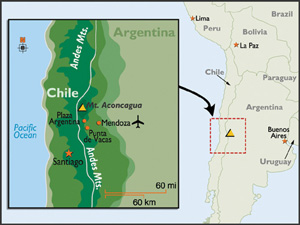 Snow, of all natural factors, has played a role in their business recently. To ship their wines to the US, Ed and Nick use the port of San Antonio, Chile. Getting there from Mendoza, trucks laden with the wine of Susana and their other producers must bypass Aconcagua, the highest mountain in the Western Hempisphere, and scale the Uspallata pass at 12,500 feet. In the summer, climbing this height takes only a few tanks of gas but is no great obstacle. However, now, when it is winter down under, it has become a bottleneck.
"It's been hard to even find containers to fill," Ed laments because the traffic has been so backed up this winter because of the tremendous snowfall. Normally, the pass can close for a day or two in the winter but this winter it has been closed for up to two weeks at a time. Nonetheless, ships departing every two weeks means that they don't have to wait for a boat once they clear the Andes.
Once the wines arrive in the US, the Vine Connections team is on the road selling the wines. Ed says that he travels less than Nick since he has two children but he is still on the road about 100 days a year. Nick has been shouldering as many as 280 days a year on the road, though he will be pulling back with the hiring of new sales staff bringing their national total up to seven. It's important for Ed and Nick that their sales staff feel the same enthusiasm for Argentina that they do so all of the staff have been there to experience it first-hand.
Ed and Nick were drawn to Argentina in 1999 by the wines but in 2002 many others were drawn by the currency collapse. "When we went from the first time, we thought we had found the Holy Grail, to make good wine consistently, and we thought we could have the place to ourselves for quite a while. But now Argentina is so much on the map and the number of foreigners who have moved in has been phenomenal. No major wine growing country is without some sort of presence," Ed said. "I'm stunned that it took the world this long to find out."