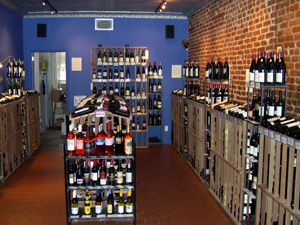 When I walked into Big Nose Fully Body on a warm summer day last week there were three new wines on the counter: a Greek white, a French rosé, and a Lebanese red. That about sums up the diversity at this charming neighborhood shop.
If I were a movie reviewer, I'd give the shop two thumbs up, way up. Or if I were Robert Parker, I'd give it a 95. By any rating system this shop scores high. I would love to have this shop right around the corner from my house.
The shop doesn't have an enormous selection but it does have a great selection. And with almost as many different wines as there are days in the year, and conveniently located near the F line subway station, locals should consider this their own cave. Moreover, the wines are not only ready to drink but they are priced to drink. Only a few champagnes seemed to crack the $25 mark (but there were even some sparklers for under $10).
Pat does not buy her wines from an importer such as Greg nor does she buy them directly from a producer such as Susana. Instead, she buys them from about 25 distributors who act as intermediaries between the producers and the retailers. Although she works with a couple of big distributors such as Lauber, she works mostly with smaller distributors who have niche specializations or smaller, more focused "books" as their portfolios are known in the trade.
For example, she recently had a wine from California at a restaurant and inquired about who was the distributor, hoping to get it for her shop. She learned that it was distributed by Angels Share in Brooklyn and since that's the location of her shop, she thought it would be a snap. But in the end the distributor didn't have a listed phone number so she put it on the back burner. A few days later, she got a call from one of the two principals at Angels Share asking if he could be of assistance.
In the end, the California wine was too expensive for her shop, but Angels Share also had some Spanish wines that she liked (including the Castillo de Fuendalejon, the bottle in the bag, which I purchased at the shop and review as my wine of the week this week).
Wine distributors in New York state offer discounts for larger orders, Pat explained to me. They quite often offer a price for one case, but then discount that by about five percent if she takes three cases. Five, ten and 25 case orders all get steeper discounts but those are rare for Pat's small shop. The shop's temperature controlled basement stores some wine inventory that Larry, the assistant manager, keeps assiduously arranged.
But even though it is a small shop trading on a convenient location and knowledgeable staff, the prices are still good. Pat says that sometimes she wants to stock a wine that is too expensive, she will offer at a lower price than the normal markup. And she sometimes scrounges the distributors' lists to find any interesting wines they may be trying to move and offers those at reduced prices as well.
The distributors come and pour their wines for her to sample at the shop. If she wanted, she says that she could have as many as three a day visiting her, each pouring five or six wines. While this might be reason enough alone for some entrepreneurs to purchase a wine shop, Pat says she tries to keep them at bay until she has a gap to fill. "I taste every wine that is in the shop," Pat said.
Since she is also a wine writer, she writes up her impressions of a wine and hangs a tag in front of each bottle. Parker scores? Not in this shop. "Scores won't tell the customer whether the wine will go with chicken salad for lunch," she said.
The shop's window display (and street scene in reflection!)
Oddly enough, given her background at IBM in e-commerce, Pat never really thought about selling wine through the web. "There's just not enough space for shipping boxes," she explained. "Occasionally our email newsletters get forwarded and we get requests, which we try to honor, but it is logistically difficult."
About five percent of sales are rosé wines in the summer and white wines climb to parity with reds. Before I trundled off to the coffee shop next door, Pat suggested a few summer picks:
* Routas, rosé, 2004, province, $9.
* Castello de Bossi, 2001, $16 (closeout)
* Pierre Boniface, white, vin de Savoie (of course!), $12
* Notios, Pelopennisis, 2004 (white) – just in, as yet unpriced.