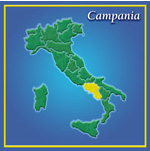 Greg recently spent some time in the "red zone" of Mt. Vesuvius peering into the original crater. No, he wasn't leading an excavation of Pompeii. Instead, he was walking the vineyards of winemaker Gabriele DeFalco.
Located in Campania, above the Bay of Naples and on the flanks of Mt. Vesuvius, DeFalco is one of four wine producers in Greg's Sauvage Selections portfolio. DeFalco, the former vineyard manager of the critically acclaimed Feudi di San Gregorio, makes both red and white wines from the Lacryma Christi del Vesuvio DOC.
This trip to see DeFalco was particularly fun for Greg since his wife Nell was able to tag along. This week-long trip, primarily to go to a family wedding but also to see DeFalco, was the first one that Nell went on since Greg started the business. "Usually he's so booked with appointments, driving eight hours a day, and racing around without a day of rest—that it doesn't make for a vacation at all," Nell wrote me last week.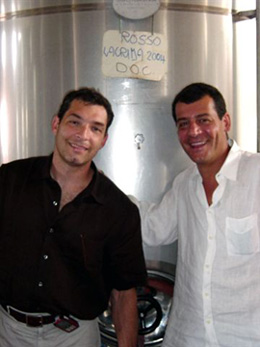 "It's great to be able to visit the wineries with Nell," Greg told me on the phone from the O'Hare international terminal. "Obviously the hardest thing about being on the road is being without her but since she helps me with the catalogue writing and images, I always love it when she can come with me to get a sense of the place herself." Sampling the fresh regional foods together can't be bad either as they shared a meal of sardines, two different types of clams, mussels, and local aliche with DeFalco overlooking the bay.
DeFalco left Feudi to pursue his own authentic winemaking style Greg said. Although Feudi is known for having put the local, indigenous varietals such as the white Falanghina and the red Aglianico on the wine world's radar screen (Robert Parker gave Feudi's $65 Serpico 2001 Aglianico 98 points), when they turned to pursue a winemaking style that produced bigger, more oak-driven wines DeFalco no longer felt comfortable. Now Greg buys most of the wine that he makes for export to the US.
"The Feudi white (Falanghina) does not have a sense of place. The DeFalco white is lighter and has notes of peach that go great with fish. The Feudi rocks the fish," Greg summarized.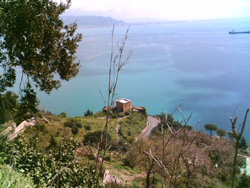 American consumers will be able to taste more of the wines this year. Greg said that the DeFalco labels had gotten final approval from the US authorities, which meant that a container of their wines could now ship. "Hopefully we can get a container out of Italy in the next couple of weeks before the country shuts down for August. Then it would arrive here in Chicago in October and be available for the holidays," Greg eagerly reported.
Consumers will await them with baited breath—and tongues. Ten days after his return, Greg led consumers through a tasting dinner of DeFalco wines. At the recently opened Night Café in Arlington Heights, IL, Greg had them taste the white, and they approved. Then Greg had them try an olive or take a bit of salt on their tongues and then taste the wines again. "Everybody said 'holy crap! I had no idea that food could do that to a wine!'"
DeFalco might be the producer closest to Smolik if in name only since his mother's maiden name is DeFalco. Although he family came from Sicily, where the spelling is DiFalco, they switched to the Campania spelling of DeFalco for ease of pronunciation in America. Greg grew up speaking Italian with his mother and visiting her relatives in Sicily every summer.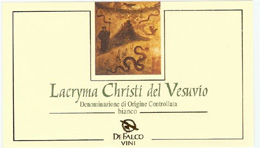 Greg was headed to Sicily on Friday when I reached him at O'Hare. He's going to be in Italy working on a new, complimentary business. He has just gotten financing for a new line of wines that he is going to import under the Cantina della Passione name. They will be accessible selections of barbera, chianti, and Pinot Grigio with a focus on quality. "I have restaurant owners telling me 'I'll never be able to sell Aglianico Bianco in the suburbs, Greg.' So this new line is wine is for them: quality, accessible and higher volumes."
"I've never felt so liberated in my life. I can do esoteric stuff with Sauvage Selections. Then I can also have mainstream wines in other line," Greg cheerfully stated as they called his flight over the loudspeaker.