June 29, 2005
What does it take to be a wine producer? Or an importer? Or a retailer? Discover the inside scoop through "a year in the life of" three accomplished wine industry professionals. In this space, we will track one year of making and selling wine in three different parts of the world and watch how they do their business and overcome challenges.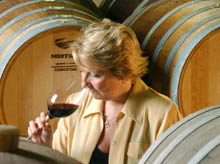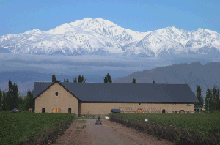 From Argentina, Susana Balbo brings 25 years of winemaking experience to her wines in Mendoza. She and her husband, Pedro Marchevsky, the vineyard manager, started their winery in 1999. The practice sustainable agriculture and export 90 percent of their wines to 17 countries. The winery is currently running near its capacity so how the manage their production, and the increasing number of tourists the wines attract, are key challenges for the coming year.
Susana Balbo, Making wine in Mendoza 6/29/05
In America, Gergory Smolik started his own wine importing company in Chicago in January 2004. He imports wines from four regions of Italy all from family-run wineries that produce only limited amounts of wine each year. Smolik believes in rustic authenticity. Prior to starting his own business, Greg was the Italian wine buyer for six years at Sam's Wines in Chicago. In the coming year, he expects to grow his list of producing wineries and expand the availabillity of his wines in the US.
Gregory Smolik, Importing artisanal wines from Italy 6/29/05


Big Nose, Full Body is a wine shop in the Park Slope area of Brooklyn, NY. The shop is celebrating its fifth anniversary this year; Patricia Savoie, the current owner, purchased the shop two years ago. Since then it has won various accolades as well as a loyal following in the neighborhood. The small, smart shop stocks around 350 wines from around the world mainly in the $8 – $15 price range. With wines from off the beaten path places such as Turkey and California Charbono, Pat says "we have good breadth, not depth" to describe her store's offering.
Patricia Savoie, Selling the wines of the world, 6/29/05