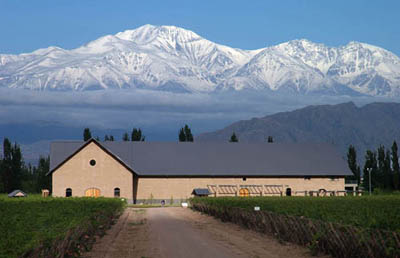 It was 25 degrees (-6C) in Mendoza on the morning that I reached Susana Balbo by phone last week. Nestled in the foothills of the Andes, the vineyard was dotted with workers pruning the vines down to stumps she said. But the winery itself was in its annual hibernation as the grapes were harvested two months ago and the wines were quietly fermenting.
Although she and her husband, Pedro Marchevsky, started making their own wines in 1999, it wasn't until 2001 that their striking winery, Dominio del Plata, which Susana designed, opened for making her three lines of wines. The wines include Malbec, Argentina's signature grape, as well as more unusual offerings including Syrah-Bonarda, a rosé from Malbec, and the white Torrontés. They range from about $10 to $35 retail in the US and can be found in 17 countries.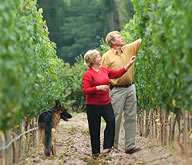 Export markets have been essential for Susana since the concept stage of the winery. Her first winery, a short-lived venture in the early nineties, targeted the large domestic market in Argentina. Since then, exporting has become not only easier but essential. For example, when the Argentine peso collapsed in 2002 losing 75 percent of its value against the dollar, wineries with strong exports profiles actually saw their sales rise in peso terms (see my backgrounder).
A graduate in enology in 1981, Susana honed her winemaking skills during nine years in the Cafayate province. She returned to Mendoza in 1990 and refined her export skills as export manager during the mid-to-late nineties at Catena, one of the locomotives of the Argentine wine industry. She also designed the new Catena winery, a useful base for later designing her own. And she also met her husband there, since Pedro was the long-time vineyard manager at Catena, and the two were married in 1995. But they both left Catena to pursue their own winery together.
Susana is careful to draw on her experience at Catena but not the contacts that she made there. Her American exporter, Vine Connections, is a different importer than Catena's American importer, an important point for Susana. She also maintains different importers in Europe than Catena. "All professionals want their own boats, to be their own captain," she says.
The popularity of the wines abroad is having ramifications at home. In one way, Susana is starting to see more demand from the domestic market. As Argentines travel abroad again now that the economy is on a firmer footing, they are seeing her wines overseas and then come home and look for them. Further, foreign consumers are increasingly traveling to Argentina and the winery gets many calls for visits, but can hardly accommodate any of them. That's something that Susana would like to work on more in the next year.
She also aims to do more experimentation in the vineyard. The 25 acres of vines are managed according to sustainable agriculture practices. But the real wild card in grape growing in Mendoza is the risk of hail storms that can erupt without warning just before harvest time, pound the plump grapes, and leave the vineyard owner with no crop. Thus Susana is trying strategic placements of nets of various colors and densities.
The winery is a family affair with Susana making the wines, while Pedro and his son manage the vineyards. Pedro's daughter-in-law is an artist and designs all the labels. Susana's son is currently a student at the University of California at Davis, the premier school for winemaking and viticulture in the US. One of the wines is called "Crios," which means offspring and the label depicts two small hands in a big one symbolizing Susana and her two (now grown) children.
Susana is headed to Davis to visit her son and then take some time relaxing on the beach in northern Brazil. We'll check in with her American importer next month. Over the coming year, I'll talk with Susana more about the making and selling of wine and hopefully meet up with her in Argentina or America to see her doing one of the two.