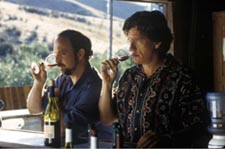 The more you know about a given subject, the easier it is to pick out flaws in a given movie. Anyone familiar with Chicago could have noticed that the main characters of When Harry Met Sally were driving on the wrong side of town when they left the University of Chicago for New York. Similarly, chess players may have found flaws with Searching for Bobby Fischer. Or drag racers with 2 Fast, 2 Furious.
That's why I was surprised to find fewer blatant flaws in Alexander Payne's new wine-drenched movie, Sideways, than there are curves in a Rabbit wine opener. The movie has rightfully received high praise from movie critics including a composite score of 94 on Metacritic (harder than a Parker 94, I might add). And though there's talk of Oscar nominations, we'll have to see if members of the Academy can stomach such a full-bodied story even if it has a good finish.
lush country
The best thing about the movie from a wine geek's perspective is that it will bring (hopefully lots) of viewers in touch with wine culture. The rolling hills of the Santa Ynez Valley make those who haven't been there want to go check it out. And the number of fine wines consumed in the film would give anyone unfamiliar with the wines of the area a great list of wines to try. But beyond the cliché of wine and beautiful scenery, the movie deftly blends wine and humor, two elements that are not blended enough in wine talk. During my showing, the audience roared with laughter when the wine geek character refused to make his friend happy on date night saying, "If anybody orders Merlot, I'm leaving. I am NOT drinking any F***ing Merlot!" Merlot as a laugh line on the silver screen. How great.
Virginia Madsen's character has a radiant paean to wine: she leans forward in her chair, has a soft light on her face and proceeds to share her passion for wine, how it is expressive of the place from which it came, how the tastes move her, and how it changes over time in the glass and in the bottle. Honestly, any wine marketing budget for TV should just clip this soliloquy since it will intrigue and possibly convert the most stubborn of beer drinkers.
Another good thing about the movie is that although it makes wine alluring, it is fundamentally a movie about two buddies and wine serves as a backdrop for their hedonistic week and a vocabulary for talking about their problems. Since it is not a movie only about wine, such as the documentary Mondovino that aired at the Cannes Film Festival earlier this year, and since it is such a good, if dark, story with terrific acting, it is bound to find an audience that is more broad than simply those who pay extra for first class delivery of Robert Parker's Wine Advocate.
But there were some aspects of the movie that made me cringe. The wine geek in the movie, Miles (Paul Giamatti), is helpful in wine education when he tells his buddy Jack (Thomas Haden Church) that the 1992 Byron sparkling wine is made from 100% Pinot Noir grapes since champagne drinkers don't often inquire about grape varietals. But Miles does wine appreciation no favors when he pretentiously trots out all sorts of strange aromas in a Sanford rosé—presumably their Vin Gris—at their first winery stop. (Honestly, who ever got "soupçons of asparagus" aromas in a rosé? Or "flutters of Edam cheese"?) Jack by contrast is so easy to please that almost every winery visit has him throwing back his glass and saying "tastes good to me!" Blending Jack's enthusiasm and Miles' knowledge but without stereotypical wine-geek condescension would have been the best depiction for Americans to see since wine is so often thought of as part of an elite lifestyle. But, hey, at least it was Paul Giamatti saying these lines and not Tom Cruise, which would have caused wine tasters from Barossa to Bordeaux to lose more than a wine sample into the spit bucket.
And then there is the quantity! Wine, and most of it excellent quality, is not only consumed in tasting rooms, bars and restaurants, but also behind the wheel, in bed, and out of a Styrofoam cup in a diner! Clearly Miles is an alcoholic as well as a knowledgeable wine enthusiast. As David Edelstein writes in his review of the movie on Slate, this is probably the first movie about out-of-control epicureans. While it is great to have a discussion of Pinot Noir or Vouvray or to see lots of spectacular wines consumed (since too often great wines just sit around as display items), it is poignant to see them often merely guzzled. But that is what gives the movie its dramatic verve after all.
One specific item wine buffs may want to trot out when seeing or talking about the film is the fact that at one point, Miles disparages Cabernet Franc for making insipid wines. But it later emerges that the gem of his humble collection is a 1961 Cheval Blanc. How ironic, given that Cabernet Franc makes up two-thirds of the wine. And the other third? Merlot. Maybe the wine consultant to the film missed that. Or perhaps the writer left it in for connoisseurs to speculate that French provenance of wine makes it appealing. After all, the eyes of this Pinot Noir enthusiast never light up more than at the mention the prized Burgundy DRC Richebourg (100% Pinot Noir) although, sadly, no vintage is given.
Net-net this is an excellent movie. We can but hope that it is the first of many movies that will incorporate wine so prominently and so well. Sideways would be a great break from the relatives over the holidays for readers of this site who clearly already appreciate wine and humor. And as with most Dr. Vino picks, the movie can be enjoyed for under $10.
Click here for a list of wines and wineries in Sideways